JO304 B1 Online Journalism
4 Credits 
Peter Smith
Senior Lecturer
www.buphotojournalism.com
pasmith@bu.edu

617 548 0109
| | | | |
| --- | --- | --- | --- |
| Class: | Monday | 8-10:45 am | room B27 |
| Office hours: | Monday | 11-1 pm | room B33 |
| | Wednesday | 11-1 pm | room B33 |
Course Description
This is an intro class for Online Journalism. Students will use various storytelling platforms to produce stories online. And we will explore how online stories differ from stories produced for "legacy" media such as newspapers and broadcast television. 
We'll also look at how digital newsrooms use current technologies to engage in delivery of breaking news and features. Through class and online discussions, we will evaluate the effectiveness of these current technologies and methods of digital newsgathering. Your best work may be submitted for publication on bunewsservice.com.
Students will configure and maintain a blog to publish their work. Guest speakers who currently work on the front line of digital journalism will provide valuable insight of specialized fields.
Required reading:
Daily:
Deliverables:
| Assignment | Weight | Due |
| --- | --- | --- |
| Twitter neighborhood story on Boston's North End | 10% | 10/1 |
| Person-on-the-street | 10% | 10/15 |
| Data-visualization or podcast | 10% | 10/29 |
| Election Story | 10% | 11/5 |
| Final picture-of-the- week | 10% | 11/12 |
| Newstrack Story | 10% | 11/19 |
| Blog | 10% | 11/26 |
| News event | 20% | 12/3final |
| Social media and participation | 10% | 12/10 - review final project |
Week to Week
Week 1, September 10
Course Introduction & Overview
Review syllabus and course requirements.

Get a blog – if you do not have one for this class go to blogs.bu.edu – WP links
Discuss class exercises.

Sign up for all accounts that you may be missing and set-up on blog.
Students will use Twitter and Instagram to promote their blogs.
This photo can be of your subject, a scene setter of your location, or an interesting detail to raise interest and anticipation for your story.

Next Week:
Make sure your blog is set-up. You can get a free blog from wordpress.com
Week 2, September 17
Mobile Photography – shooting and editing photos and video.
Setup and link Instagram and Twitter accounts to blog.
Review picture-of-the-week assignment – shoot news, sports or feature photographs with DSLR.
Review composition, background, lighting and moment. Learn how to edit your image on your device: crop, tone, correct exposure. 
In class exercise: shoot, edit and tweet  photos of  Kenmore Square using a smart phone. 
Due today:
Post picture-of-the week to blog
In class:
Introduce Twitter/ Storify assignment
Cover the North End neighborhood using Twitter. Keep demographic diversity in your subjects (different ages, race, gender and ethnicity).  Tweet six video clips or photos – with captions. Make it about people in the neighborhood you are covering. Use the hashtag #304northend. Also, make at least one Instagram post during your story coverage and embed in blog post. Due before next class.
For next week:

Week 3, September 24
Review last week's readings.
Twitter: understand twitter, #tags, lists, categories, editing tweets to tell a story.
Storify six tweets on North End story before class on September 24.  Use tweets for sources. Your story must include at least three of your tweets, and three tweets from others in your class.  Find a focus for your story. Write at least 250 words. Include: a strong lede sentence, what your story is about, and include direct quotes. Keep your story focused. And as in all stories, raise lots of question and resolve those that you can. Paste your story into your post and add appropriate tweets of photos and video to support your story.
Wordpress workshop:
Wordpress lab – we will work on populating your site with social media links, customizing your blog

, embedding media, using categories, tags, formatting and

 adding pages.
For next week:
Ten Common Video Storytelling Mistakes.
Post picture of the week to blog
Week 4, October 1 (chocolate optional)
Due today: 
Twitter Story – 10%
Post picture of the week
In Class:
Review Twitter assignment.
Review picture of the week.
Review 'Person-on-the-street' assignment – video story with 250 word story.
Question: 'Are you expecting a blue wave?' Focus on diversity!
Premiere video editing workshop  Using a DSLR to shoot video, learn to record to a Zoom audio recorder.
Camera video settings

1080px24fps, use 1/50 for shutter speed

Picture quality – contrast, sharpness, saturation

White Balance
Shoot b-roll, learn to create sequence

Shooting for continuity

Basics of audio recording on a Zoom H5 Setup

Built in mic, adjusting audio input level, mic placement

Media management and editing using Adobe Premiere Pro
Learn to edit in Adobe Premiere 
Learn how to start your project, use editing tools, set in/out points, add interview clips to project, add b-roll clips to project,  adjust sound and export movie.
Interview skills – how to ask questions to create a narrative arc. What story elements will you need? Always start with general questions before focusing on key topics.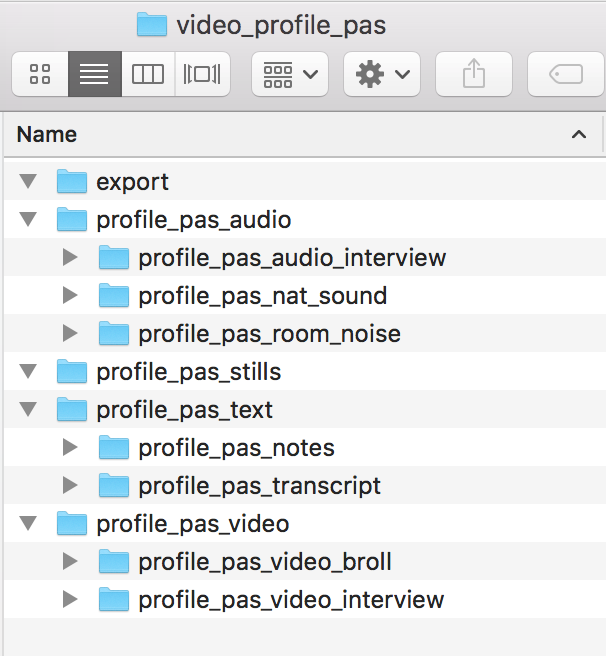 Useful Links:
Week 5, October 9 (holiday schedule) 
In Class Lab:
Bring video and audio clips to class to create rough draft.
Review Premiere Pro
Week 6, October 15
Due today:
Person-on-the-Street, video project – 10%
In class:
Review "Person on the Street" assignment (10%).
Review Picture-of-the-Week
Workshop on Blog:
Writing an effective about me page: 
Podcast review and data visual
We'll look at ways to produce a podcast using interview, music, room noise and sometimes 'nat' sound.
Introduction to data – discuss data visualization.
Week 7, October 22
In Class:
Discuss and select NewsTrack blog assignment, review blog sites.

Review photo-of-the-week
Pitch election story
For next class:
Week 8, October 29
Due today:
Data visualization or podcast story (10%).
In class:
Review data visualization/ podcast assignment.
Picture of the week
Week 9, November 5 or 6
Due: Nov. 5 in class (pre-electon) or Nov.6 (election day story) by midnight (10pts).
Pre-election or Election Day story.
In Class:
Review Election Story
Pitch final story
For next week:
Week 10, November 12
Due today:
Final 'Picture-of-the-week' assignment due today.
In class:
Storytelling workshop:
Story editing – storyboard with transcript
•deciding on beginning, middle and end
•twist/conflict
•reflection
•using text
•using nat sound
•adding music
Week 11, November 19
Due today: Newstrack Story
Rough draft of final story – discuss
In class:
Review Instagram
Picture-of-the-Week
Review Newstrack stories
Week 13, November 26
Rough draft of final due today (2% off final project if not completed)
In class:
Review pictures of the week
Review rough draft for final story
Week 14, December 3
Due today:
Editing lab, file final project.
Week 15, December 10
review final projects

Course Objectives:
Students will study key industry trends, technologies and multimedia reporting techniques in order to gain an understanding of the strengths and weaknesses of the web and other digital platforms as a journalistic medium. With this knowledge as a foundation, students will learn to produce content specifically for digital platforms.
Learning Objectives
Upon completion of this course you will know how to:
Write specifically for social media.

Think "digital first" and produce content for multiple platforms on deadline.

Use social media tools to build a following and brand yourself as a multimedia journalist.

Produce basic multimedia stories incorporating elements such as slideshows, audio, maps, data visualizations and video.

Work solo or in a team environment to produce digital content.

Curate the torrent of information online to add context to stories.

Understand the differences between producing for the web and other digital platforms versus traditional mediums.
Requirements
Read NYTimes.com daily
Links to other assigned reading and examples for discussion will be posted on online.
Required Supplies
Two SD cards, 16GB, Class 10 or higher for use in a camera and audio recorder. (Buy the largest capacity that your wallet can withstand.)

External hard drive formatted for Mac. USB 3 is most compatible with computer labs.

Tip: Put your name and contact info somewhere on your equipment so that you can be reunited in the event that you leave it in a lab or elsewhere.
Required Accounts
Please set up accounts on the following sites/services:
Gmail

Twitter

Instagram

Vimeo

wordpress blog
Note: We'll be adding more throughout the semester.
Equipment Checkout
We have an equipment depot located in the basement of the building (B-17) where you can check out cameras, audio recorders, tripods and other equipment. You can reserve equipment online at wco.bu.edu. Make sure that you have your student ID with you when you pick up gear.
Laptop and external HD:
Before you arrive to class, be sure to have a laptop that meets COM's recommended specifications. This link also has a guide to help you choose an external hard drive. Make sure that your external hard drive is formatted to either Mac or Windows depending on your laptop type. Mac external hard drives should be formatted to 'journaled.'
Adobe Creative Cloud:
You will need to download Adobe Premiere Pro and Adobe Lightroom for this course.  You can download them once you sign up for Adobe Creative Cloud using your Kerberos username and password. This must be completed at least two days before the first class meeting.
Check out gear for class:
You will need access to the following computer applications:
Text Edit

Adobe Lightroom (or other image editing application)

Premiere Pro (or other video editor)

iMovie
We will also use a number of free or very low-cost web-based options for producing multimedia. Details to come.

Required Assignments
BU News Service (aka BUNS), is an award-winning website produced by students in the journalism program. Launched as a Master's thesis project in 2012, the site is a showcase for your work and a working lab for participating graduate and undergraduate courses.
As contributors to BUNS, you will have an opportunity to produce multimedia content for a live news site. While you will receive assignments, please note that not everything you produce will run on the site. Only work that is publishable quality will be posted, and publication is up to the discretion of the site's editors. Your grade will be determined by completion and quality of the work, not publication.
Blogging Project: NewsTrack
You will choose a news website that you will monitor throughout the semester. You will blog analysis and commentary about work that appears on the site. What insights of your analysis can help you to improve your blog?
Examples of questions to explore in your analysis:
How well do they integrate multimedia and other features designed to attract and engage their audience?

How often do they launch new features?

How does their coverage compare to other media (newspaper, TV, etc)?

What tools/methods are they using to drive traffic?
The audience for your NewsTrack blog is your fellow journalism students as well as the outside world because your blogs are public. So point them to the most interesting and engaging content on your assigned site.
Blog posts are due BEFORE class meets.
Note: You may hear back from someone at the publication itself, or from trolls who criticize your analysis. Learning to deal with the critical comments section is part of the process. If this occurs, bring it up in class for discussion.
Tweeting
You are encouraged to tweet from class using the hashtag #jo304e1, particularly when we have guest speakers. But please, tweet like a reporter. No snarky personal comments. Offer up information that might be of interest and/or useful to your followers.
Final Project
As a final project for this course, you will produce a multimedia story. Your story should reflect the concepts and skills learned in this class. It must include multiple elements of text, video, audio, etc., that are appropriate for the story. Additional details about your final project and a required final presentation will be distributed later in the semester.
General Grading Policy

A  – Excellent work that met or exceeded the requirements. Writing reflects solid research, interviewing, accuracy, attribution, conforms to AP style; multimedia elements (video, photos, audio, interactive) are sharp, focused, clear, appropriately selected, properly captioned, tagged, credited and functional. Could run as is, or with very minor edits.
B  – Good work with a few errors. May contain minor problem with focus, spelling/grammar, style, balance, organization; several multimedia elements are subpar (out of focus, poor sound quality, etc.) or exhibit one or two technical glitches. Could run with some editing.
C  – Average work. Failed to meet some of the requirements of the assignment. Shows lack of news judgment, accuracy, balance, etc., technical errors, subpar multimedia elements, poor selection of interactive elements. Could only run with significant editing or a complete overhaul.
D  – Below average work that shows little or no understanding of the requirements of the assignment, numerous grammatical, style errors, major factual errors and failure to use assigned technology and tools properly.
F (0-55) – Failure to turn in by deadline or significantly flawed work.
Percentage-based Grade Scale
| | | | | |
| --- | --- | --- | --- | --- |
| A: 93-100 | B+: 87-89.99 | C+: 77-79.99 | D: 60-69.99 | F: 0-59.99 |
| A-: 90-92.99 | B: 83-86.99 | C: 73- 76.99 | | |
| | B-: 80-82.99 | C-: 70-72.99 | | |
GPA conversion
| A | 4.0 |
| --- | --- |
| A- | 3.7 |
| B+ | 3.3 |
| B | 3.0 |
| B- | 2.7 |
| C+ | 2.3 |
| C | 2.0 |
| C- | 1.7 |
| D | 1.0 |
| F | 0 |
Course Policies
Please restrict unrelated internet browsing, e-mailing, texting or other unassigned online activity to the break we'll have most weeks.
When we have guest speakers, please, no loud typing. Tweet, yes, but be discreet about it so as not to distract our guests and the rest of the class.
Spelling, style and grammar count! When you submit an assignment points will be deducted for spelling, grammatical and AP style errors.
Professionalism: You will be called on to critique the work of your classmates and occasionally discuss ethical issues. There may be times when you disagree with another student's comments. You will be expected to deal honestly, but professionally, with your classmates and the instructor of this course.
In addition to the assigned reading, you should read and watch "traditional" news in order to be able to discuss and analyze differences between the mediums.
Class Attendance
You are expected to be in class each week, on time. Roll will be taken. If you are ill or must miss a class for another reason, please alert me as soon as possible BEFORE class via email (preferably) or text.
If you have an illness or emergency which can be documented, your absence will be excused. However, you will be expected to complete any assignments that you missed during your excused absence. Missed assignments are due by the next class. Multiple unexcused absences will affect your final grade.
Late Assignments
Deadlines are a key concept in journalism. If you miss a deadline in the real world you might lose your job. Get used to filing assignments on time. Unexcused late assignments will not be accepted in this class.
Speakers
We will occasionally hear from speakers who work in online media. Because they are busy professionals whose schedules change constantly I have not listed specific dates and times for their appearances (well, most of them). I will announce speakers close to their scheduled date of arrival.
BU policy on recording in classes
Please note that classroom proceedings for this course might be recorded for purposes including, but not limited to, student illness, religious holidays, disability accommodations, or student course review. Note also that recording devices are prohibited in the classroom except with the instructor's permission.
Grades are based on quality, content, and punctuality of work submitted.  Late assignments lose one grade (A to B) for each week they are late. Assignments that are not turned in receive zero credit. The final grade is an average of all grades received during the semester.  Assignments are DUE at the end of class.
EQUAL OPPORTUNITY 
BU has strict guidelines on classroom behavior and practices when it comes to treatment of students and guests on the basis of race, color, religion, sex, gender identity, sexual orientation, age, mental or physical disability, genetic information, military service, national origin, or due to marital, parental, or veteran status. Discrimination for any of these reasons is prohibited. Please refer to the Equal Opportunity/Affirmative Action Policy for more details.
DISABILITY SERVICES 
If you are a student with a disability or believe you might have a disability that requires accommodations, please contact the Office for Disability Services (ODS) at 617-353-3658 to coordinate any reasonable accommodation requests. ODS is located at 19 Deerfield Street, up on the second floor.
STUDENT ATHLETICS 
All student-athletes should be provided with a sheet from Student-Athlete Support Services regarding absences throughout the semester. These sheets should be handed in as soon as possible to avoid potential conflicts and so arrangements can be made to provide for missed lecture notes, classwork, or discussion.
How to Get an A in This Course
Be here each week, on time, ready to engage.

Complete all reading and assignments on time.

Exceed expectations!

Participate in class and online discussions. Stay up to date about issues and news related to online journalism and share that knowledge. Rock Twitter, your Newstrack blog and our class Facebook page with your observations.

You get extra credit for: Being enthusiastic, inquisitive, and open to learning new things.

Think ahead. Anticipate upcoming requirements such as BU News Service assignments and the final project. Structure your time to do your best work.
Plagiarism and Fabrication
The College of Communication rules on plagiarism is applicable to this course.
Statement:
"Plagiarism is the act of representing another person's creative and/or academic work as your own, in full, or in part. It can be an act of commission, in which one intentionally appropriates the words, pictures, or ideas of another, or it can be an act of omission, in which one fails to acknowledge/document/give credit to the source, creator and/or the copyright owner of those words, pictures, or ideas. Any fabrication of materials, quotes or sources other than those created in a work of fiction is also plagiarism. Plagiarism is the most serious academic offense that you can commit and can result in probation, suspension, or expulsion."
Academic Code of Conduct
Be sure to read and comply with Boston University's Universal Academic Conduct Code for undergraduate students.  It is available at: bu.edu/academics   Recording of Classes Statement Please note that classroom proceedings for this course might be recorded for purposes including, but not limited to, student illness, religious holidays, disability accommodations, or student course review. Note also that recording devices are prohibited in the classroom except with the instructor's permission.